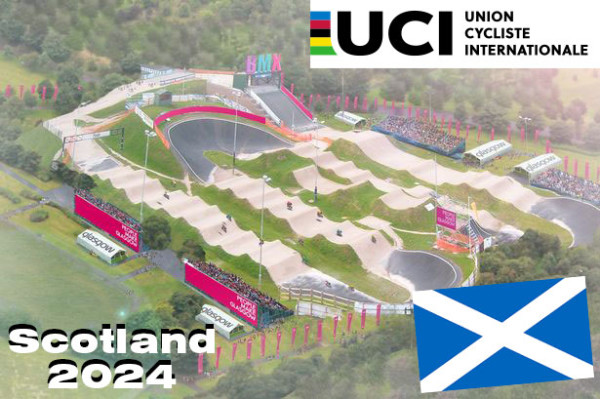 UCI announced today that, beginning in 2023— and every four years thereafter— all 13 of the cycling disciplines under their governance will hold their World Championship event together, in the same region, over a two-week period.
The 2023 UCI Cycling World Championships will be held in and around Glasgow, Scotland over two weeks, that August. Thus, we are also reporting the location selection for the 2023 UCI BMX World Championships.
It will be the start of an every-four-year cycle of combining UCI World Championship events into a two-week mega event for a given region. Previously, each discipline held its own worlds event, as we have seen in BMX, in places like Rock Hill, SC; Zolder, Belgium; and coming in 2020 to Houston, TX.
Combining all events into one "festival" setting is pretty cool idea, with a lot of potential. It gives UCI the ability to capitalize on the centralization of resources, focused media coverage/broadcast rights, and spectator/participant travel. Maybe we'll see BMXers riding the BMX Racing, BMX Freestyle, MTB and Cyclocross Worlds, all in one trip.
Here are the disciplines that are covered:
UCI Road World Championships
UCI Para-cycling Road World Championships
UCI Track Cycling World Championships presented by Tissot
UCI Para-cycling Track World Championships
UCI Mountain Bike Cross-country World Championships presented by Mercedes-Benz
UCI Mountain Bike Downhill World Championships presented by Mercedes-Benz
UCI Mountain Bike Marathon World Championships
UCI Mountain Bike Cross Country Eliminator World Championships
UCI Trials World Championships
UCI BMX Freestyle Park World Championships
UCI BMX World Championships
UCI Indoor Cycling World Championships
UCI Gran Fondo World Championships
Never knew there were so many, did you? Same here.
For BMX Supercross, the event will be held at the Glasgow BMX Centre—a dual hill facility, which hosted the European Games last year.
Two weeks in Scotland? Count us in! We'll even pull the kilts out of mothballs and begin the long process of fitting in to our Prince Charley jacket (not kidding). BMX News will keep you posted on developments as they become available.
—Mike Carruth
Read more at https://www.bmxnews.com/2019/02/uci-combines-worlds-location-13-disciplines/#hv0t4eI2wKuTVIdT.99