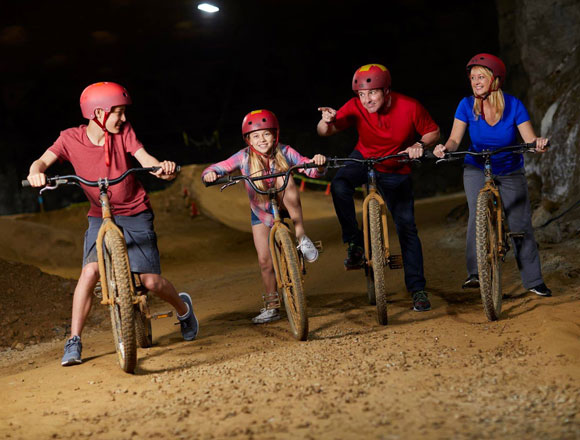 On September 16, 2014, BMX News brought some early details on a unique underground bike park being built in Louisville, KY. The Louisville Mega Cavern chunked out 325,000 square feet of their 4 million square foot facility, and opened at the end of 2014.
Over the years, we have seen some great photos and video of BMXers, big wheel Dirt Jumpers and others similarly-situated boosting the big line, and other parts of the cavern. It's such a dramatic place, it makes quite an impression.
Everything seemed to be going along smoothly. Until it wasn't.
Yesterday, management posted the following statement to their Facebook page:
We're excited for many changes coming to Louisville Mega Cavern in 2019! Due to overwhelming interest from our visitors, these changes will include a redesigned underground bike park suitable for families and guests of all ages.

While we're proud to have been a choice destination for BMX riders, the new design will not include BMX jumps in keeping with our goal to provide a family-friendly attraction. Sign up below to receive official updates and opening day announcements.

Well, as you can imagine, the BMX community did not take the news well, dropping bombs via 600-plus comments, and scads of shares to spread the word of our ouster.
To be clear, the release didn't say BMXers were no longer welcomed…it just said that BMX jumps would not be part of the refreshed course (the result of which would be BMXers self-disqualifying that as a destination).
With BMX racers getting ready to converge on Louisville this weekend for the Bluegrass Nationals, we thought we'd post this update so you didn't find yourself at the gates to Walley World, with no moose to tell you "park's closed."
Links