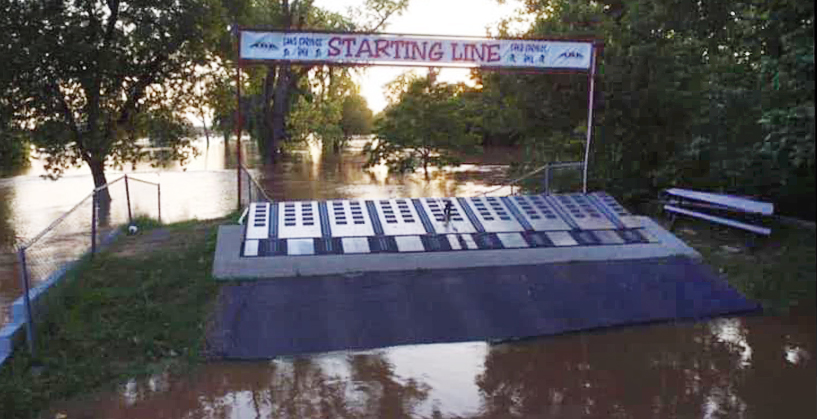 On May 21, 2019, just before the summer racing season was about to get busy, some epic weather events conspired to put Sand Springs BMX, outside Tulsa, under 10 feet of water for the better part of a month.
Spring rains filled Keystone Lake over capacity, and in order to prevent Keystone Dam from being over-topped, local authorities had to release water–lots of it.
At max release, the dam was sending 276,000 cubic feet—or 2.06 million gallons—PER SECOND downstream.
Despite the deluge, the track was back in business and running races 59 days later, which we're sure you'll agree is a Herculean accomplishment, and a clear testament to the true grit of these Oklahomans.
Here it is, date by date:
May 21 – Sand Springs Parks Dept. sent an alert: "you have 2 hours to move all your stuff from Sand Springs BMX – we are closing the park due to water levels being released from Keystone Dam."
May 21 – Keystone release rate went from 61,000 Cubic Feet per Second (CFS) to 163,000 CFS
May 29 – Keystone release rate climbs to 276,000 CFS. The track was completely underwater, and had been for several days.
Jun 2 – Jody Watson got our first photos of the damage (below). Many things floated away, snack shack was only held down by underground electrical conduit. It was submerged to the roof decking, tarps, and even a porta-john floated away until they got hung on the fencing.
The starting hill was under-cut by the current and the gate had to be removed, the Connex box under had to have the top removed and filled with dirt and new pad re-poured to set the gate we bought in January this year.
Jun 22 – We started to rebuild for the Gold Cup Qualifier/State Qualifier in July
Dirt was donated, fundraiser-fireworks were sold and other fundraising was done.
Volunteers from the track and community put in untold hours of time to get ready to for the July 19 race. We got the gate reset and used the original turns to get the races done.
July 13 – final preparations for the GCQ,SRQ were underway, new snack shack purchased and remodeled with electric, insulation, AC, coolers and moved down to last straight.
Jul 19,20,21 – 600 pt weekend went off without a hitch. Our new electricity was installed just the day before.
Aug 1 – USA BMX Track Builder, Billy Allen, completely rebuilt the track for us, with more dirt, huge new turn 1 and 2. It's the best build we have had so far. Next issue was paving. No paving due to the summer busy time.
So racing continued on dirt – back to an all dirt track now for a while.
Somewhere in here we built a pretty badass stand-alone two straight/one turn Balance Bike track as well. Needs lights for night use but the little ones wear it out riding it all the time.
Sep 6 – Soil-Tac arrived and we prepped for the State Championships on dirt turns!
Sep 6,7,8 – we had another big weekend of racing on dirt concluding with the Oklahoma State Finals – still no paving schedule for the turns
Nov 5 – Paving begins.
Nov 17 – Racing began anew on the fully completed track – weather still being her sorry self, made getting the track prepped for Soil-Tac difficult
Nov 19 – another make up race – I attended this and raced it and the track turns are much like a small version of Nashville – super fast and any line you dare to take.
Here are some photos Hoagie pulled together from the track crew

That brings us up to present-day. Today (November 26), the track will run a single-pointer for locals and Tulsa visitors arriving early for this week's "Greatest Race on Earth."
Wednesday, a double-pointer, will welcome top names and local heroes to race in a $6,000 pro-am ($3,000 each for men and women).
Here is info on that event: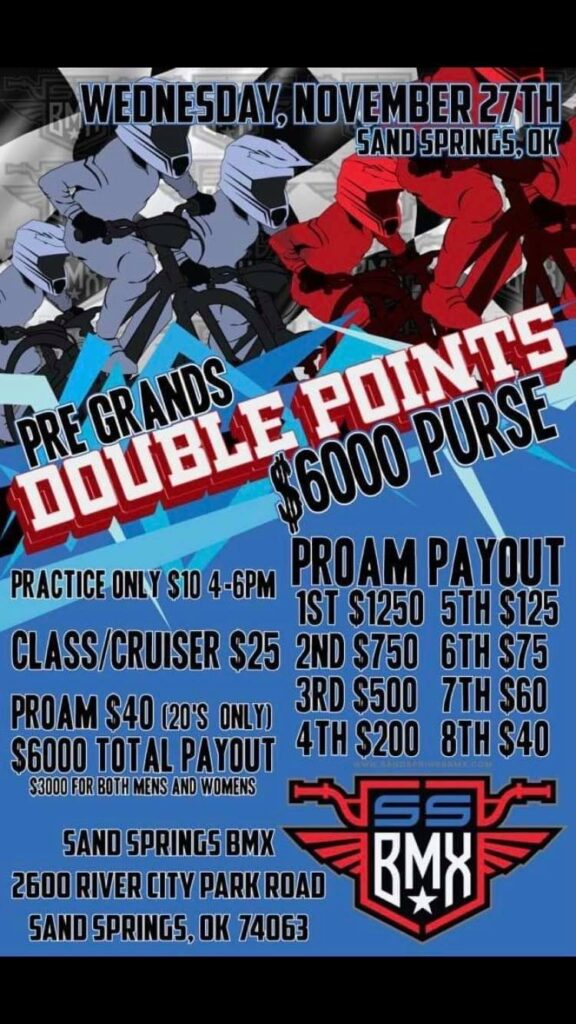 The Sand Springs BMX board has worked tirelessly alongside friends, community volunteers, USA BMX staff, Sand Springs Parks Department Staff and volunteers, donors, and on and on. It would take pages-more to compile and recognize everyone who helped this track get back on its feet.
Sand Springs BMX went from complete destruction to having one of the best tracks in the region in six-months time.
I am not sure I will ever see such a thing again in my lifetime.
There is still a lot of work to do. Asphalt will be touched up and sealed in the spring, we have some worked planned for the first straight stands if we can get some fill dirt. They will also re-start their BMX Racing League in Spring 2020, and there is some painting and banners to do.
It was truly amazing to witness how this small community came together to make this happen.
—Hoagie
---
Links
Photos courtesy of Sand Springs BMX
Mike Carruth contributed to this story