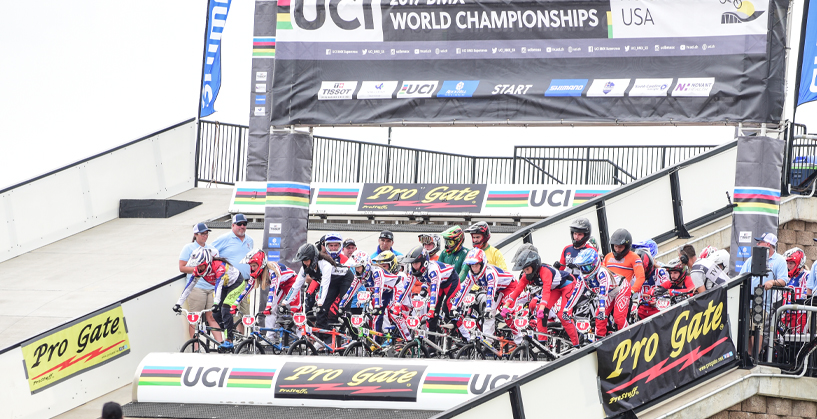 Fridays are usually slow here in the BMX News Global Command Center. Most BMXers are on their way to the races, or thinking about the races, or packing up for same. But today, we have a couple stories that are of related interest, vis a vis the BMX Supercross scene.
In International news, UCI announced today, that the UCI BMX World Championships has been awarded to Rock Hill, SC in 2024, ahead of the 2024 Summer Olympics in Paris.
Of course, there is no official word as to whether BMX Racing will be part of the games in 2024, but if it is, it will be the second Olympic cycle in which the United States was the jumping-off point for Olympic Season (the World Championship is the last qualifying event for athletes and nations).
Naturally, we will all be in Houston in 2020 for the World Championships, leading up to the Tokyo Games, and look forward to an incredible week of BMX at the Rockstar Energy Bike Park.
Here is a short video by Rock Hill Mayor, John Gettys, announcing the news.
We love all of our trips to Rock Hill and plans will be underway sooner than we know for the BMX #NewsTeam coverage of the race.
Big props to the USA-based tracks and the cities behind them, who now make US-based World Championship races a regular thing, after a 20 year stretch without one on home soil.
Here is the World Championship Schedule for the next few years:
2020 – Houston, TX (USA)
2021 – Papendal, Arnhem (NED)
2022 – Nantes, France
2023 – Glasgow, Scotland (GBR)**
2024 – Rock Hill, SC (USA)
**As part of the 13-discipline, three-week-long "UCI Cycling World Championships" which UCI will stage every four years.
—Mike
Editor's Note: This story was updated with the location of the 2022 Worlds (Nantes, France), which was also announced today.