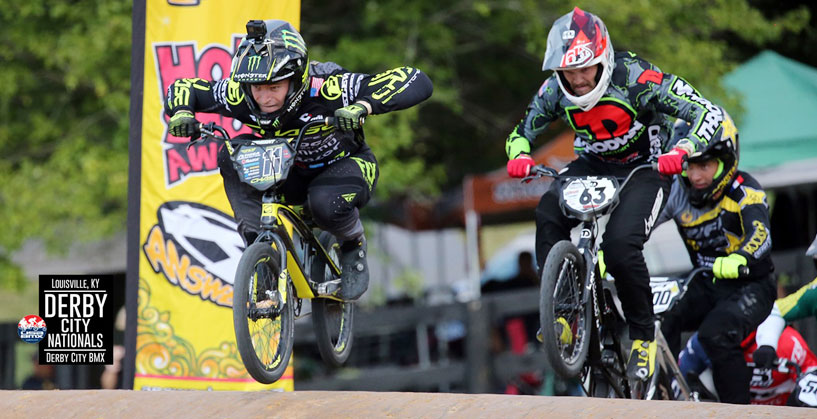 With races on four continents over the weekend the talent was spread out and a lot of hungry hippos gobbled up points.
Let's start out in Latin America, Colombia to be exact, where the Mariana Pajon Cup race (C1) went down. Carlos Ramirez and Vincent Pelluard took the top two spots propelling Colombia back past Australia in the standings (into 5th place). Brazil's Priscilla Stevaux took the win for the women. That win, coupled with Paola Reis Santos making two mains in Louisville, pushed Brazil past Colombia in the charts and into seventh place.
That's good segue into our next event, the USA BMX Derby City Nationals in Louisville, KY (North America). The second day of Elite competition was actually a "Hors Class" (HC) category event and awarded more points than the standard C1 race. It was awesome to see Connor Fields (photo above) and Corben Sharrah on the podium both days and allowed the USA to surge back in front of Switzerland; into the number three spot in the UCI Olympic Rankings.
Brazil moved up one spot, into ninth, with Anderson De Souza hitting the second and third steps of the podium (and Renato Rezende in fifth on Saturday).
Fly'n' Felicia Stancil took the win both days with Alise Willoughby sharing the podium on Saturday; giving the U.S. women a nice 150 point boost.
The biggest surprise of this qualification cycle came as the result of Aruba's Shanayah Howels popping into a qualification spot via Elite Individual points. By my calculation her finishes in Louisville should put her as the third highest ranked rider in the Individual rankings from a country that was not already qualified via the Nations Rankings.
Next, we saw rounds 9 and 10 of the UEC European Cup in Peer, Belgium. Holland's Josh Harmsen and Team GB's Quillian Isidore took the wins, but the only points that seemed to make a difference were those earned by Big Dave van der Burg (Netherlands) and Tore Navrestad (Norway). It was awesome to see Michael Bias take second on Sunday; possibly signaling a late charge by the New Zealand men to qualify for Tokyo. Zoe Classens (Switzerland) continues her dominance of Junior Women and is inching her homeland towards a quota spot.
A pair of Merles (Smulders and van Benthem) took the W's for Holland; further padding their lead.
Last stop for this week is Asia for the Chinese National Championships (NC). Haochao Lin and Yan Lu won the men's and women's Elite classes, respectively.
Up this weekend are Rounds 7 & 8 of the Czech Cup and the "3 Nations Cup" in the Netherlands (all C1).
Cheers!
Carl