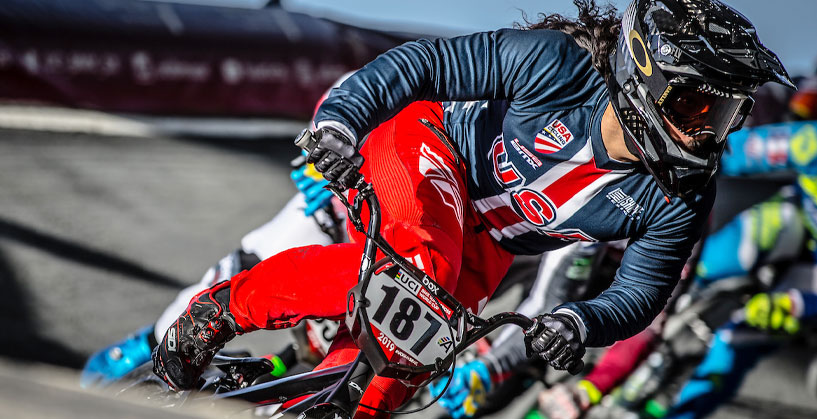 As expected Norway's Tore Navrestad won their National Championship race; and along with the remaining podium netted 145 points. That's enough to move up four spots to 18th in the Olympic Qualification Ranking, but still far out of eleventh that would potentially earn Norway one spot in the Olympics. No worries, though, as Tore is the top ranked rider in the Individual Rankings (outside countries already qualified). The Norwegians only had one Elite woman compete; which doesn't move the needle at all.
The good old Yang Yang BMX International race (C1) went down in Korea with Spain's Alejandro Kim Pena taking the win ahead of a mixed field of second tier riders from Japan, Thailand, and Korea. I don't say "second tier" as an insult; just acknowledging that there are riders that we see do well on the circuit and others that are still up-and-coming or more regional.
Back in the USA the top three Elite Men (Sharrah, Fields, and Garcia) filled out the podium both days at the Great Salt Lake Nationals in Utah. Between Jared getting C1 scores number six and seven and Corben and Connor replacing lower scores (and Friday Rockford scores posting) the United States gained 145 points. Danni George added 15 points to the U.S. Women's lead for the overall first place in the Olympic Qualification Ranking.
The International Olympic Committee (IOC) looks to the Union Cycliste Internationale (UCI) to determine how countries are awarded quota spots for the Olympic Games.
The UCI looks to individual nation's cycling federations to determine which actual athletes are selected to represent their country at the Games. For the United States the federation is USA Cycling (USAC). And inside USAC, Jamie Staff is Performance Director of both BMX programs–Racing and Freestyle.
In the past the rider selection was very complicated and not very transparent. There was a Power Ranking with points earned from various key events. There was the hyped Olympic Trials event that qualified another rider and there was always the "coach's selection" pick to ensure that a top rider that failed to already qualify was selected. For 2020 they've made it as straight forward as possible. USAC is maintaining their own ranking system called the USA Cycling Olympic BMX Racing Rankings.
The top riders (up to three depending on how the USA stacks up in the UCI rankings) in the USACycling rankings will go to Tokyo. Now, this is where it gets a little foggier (but not much).
Currently I can find the USAC BMX Power Rankings online (link below), but I can't find the Olympic BMX Racing Rankings on the USAC website. What's the difference you ask?
Well, the Power Rankings have been used for years and are a rolling 12 month race result ranking that includes UCI World Championships (CM), SX races (CDM), National Championships (NC), and HC and C1 races held on SX type tracks (think Sarasota, Oldsmar, Rock Hill, Louisville, etc). They awarded various points (between 17 and 300) depending on the finish and type of race.
Now, according to USAC's 2020 BMX Olympic Athlete Selection Procedures the Olympic Racing Rankings will only include UCI Worlds and SX races between January 1, 2019 and June 2, 2020. Moreover, the points only vary between 1-7 and riders have to make the main event (top eight) to get any points.
The Power Rankings dipped down into 1/8ths for points (for World Champs and SX events). USAC will take the best ten SX scores and the Worlds results from both 2019 and 2020. Not finding the Olympic Rankings online I whipped up a little Excel and did the math. Only four riders have made a UCI SX final in 2019; Sharrah, Garcia, Willoughby, and Stancil.
By my calculations Sharrah and Garcia are tied with one point (each made the final at Papendal on the second day 4th-8th; one point each). Alise has five finals; all podiums; resulting in twelve points.
Stancil has made all six mains (one podium), netting seven points. An email and call to Jamie Staff verified the points system and current rankings.
If we were to qualify three men and/or women and three riders have not made a main or earned any points then USAC would go back to most wins, seconds, thirds, or, finally, the UCI Individual "Supercross" Rankings as of June 2, 2020.
Staff also clarified that they would be using the UCI 2020 SX season rankings as found on bmx-results.com (just called Supercross Rankings on that site). The good news is that, with the very low points being awarded, the field is still pretty wide open; especially for the men. It could come down to "Make a World Cup main, go to the Olympics."
Our next report will have points updates from multiple races that happened over the weekend of June 28-30–National Championship events are happening in the Czech Republic, Slovakia, and Ukraine. There are C1 events in Australia, South Africa (two days), Italy, and the Global BMX Pro Spectacular is going down in Curacao. The biggest impact could come from races in Australia and Italy, but some Pan American (North and South) riders could hit the Global race and move the scale. Even if the South African men swept the podium both days they'd still be sitting one place out of the top eleven in Olympic Rankings.
Editor's Note: This report was originally published on June 27, but we paused it in order to verify some of the ins and out of the Team USA procedures. Thanks to Jamie Staff for the assistance.
---
Links