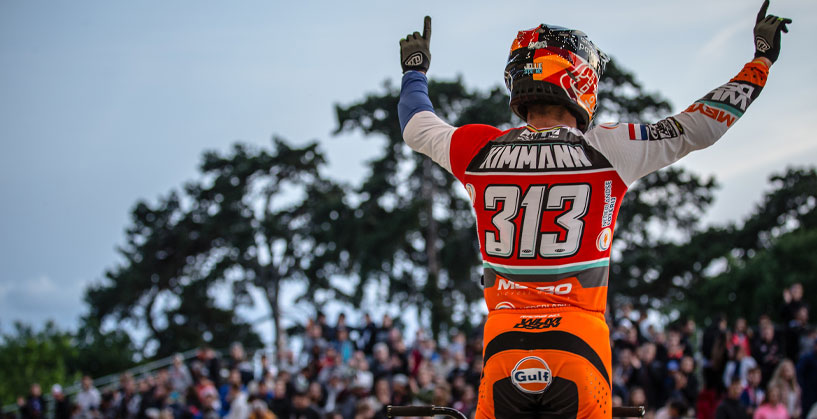 It was a big week for international BMX Racing, with the Supercross World Cup race in Saint-Quentin-En-Yvelines going down just outside Paris. In the UCI's Olympic Nations Rankings, the rich got richer and the middle class is scrambling for crumbs.
ELITE MEN
The French men went from strength to strength with home court advantage. They put four men in the final on Saturday and Sunday. While Andre was conspicuously absent from the mains, Daudet, Rencurel, and Mahieu did their share with Mayet and Simba Darnand swapping places. Both Simba and his buddy Amidou Mir are both looking poised to be consistent main makers. The Dutch continue to be carried on the broad shoulders of Niek Kimmann whose consistent wins from lane 8 always blow my mind!
I was interested to see the men pick their lanes for the final on Sunday; alternating between inside and outside (1, 8, 2, 7, 3, 6, etc). The USA men, currently sitting in third (which only sees two riders qualify to the Olympics), were in the mix until the semis on Saturday, but saw Connor Fields go down and injure something (as well as blow out a carbon rim). Sharrah was back in the mix on Sunday; winning laps, but got caught on the outside of the first turn in the semi after starting from a middle lane.
I will say that Kam Larsen and Cole Tesar are starting to shows signs of life with some great laps and making it a little further with each event. Keep in mind that all three of the USA's top performers (Sharrah, Fields, and Garcia) are all 27, so we need the youngbloods to make their way up the ladder.
OLYMPIC ANALYSIS
Some say that we still have a long way to go until the Olympics and not to worry about the USA men. Yes, there are a lot of races between now and 2020, but a look at the numbers gives cause for concern.
The French and Dutch are taking home double the points as the Americans at each SX race. In Paris the French took 554 points, the Dutch 465, and the Americans only 200. The same scenario played out in Papendal. Manchester was worse, with the USA only taking home 55 points.
Something will have to change if we want to ensure that we have three men in the gate in Tokyo. The best thing the USA has going right now is that Switzerland's Simon Marquart is injured and the Australian men have struggled to find their groove.
Outside the top three, we see Switzerland in fourth with David Graf in contention for the win at every SX round while Colombia holds on to fifth place; the last spot to qualify two riders. Australia is sitting sixth, but can't seem to get consistent performances from Sakakibara or Dean (who just switched from a SX to a Formula, so might still be getting used to a new frame). Team GB had a good showing from Evans and Whyte and were able to pass Argentina. Despite a podium finish from Alfredo Campo Ecuador still sits in ninth while Brazil surpassed Russia with De Souza looking better at every race.
I'm feeling for Canada that has Nyhaug, Palmer, and Tougas all injured; although, didn't Tory look handsome conducting finish line interviews on the live stream?
Biggest surprise performance of the weekend for me was Belgium's Ruben Gommers. It's been a couple of cycles since we saw Arnaud Dubois rep the Belgium blue jersey on the world stage.
ELITE WOMEN
For the women, the edge continues to go towards the dynamic duo of Alise Willoughby and Felicia Stancil. While Beasty continues to have the best first straight in BMX the wins are alluding her, but I think it is just a matter of time. Stancil's semi win on Sunday is a glimpse of what she is capable of. The Dutch are still pulling punches, too; with Laura Smulders taking the win on Saturday and Baauw and Huisman in contention for the finals.
Can we please talk about Manon Valentino's move in the first turn in Sunday's main? Yes, it was her home track, but how did she make that stick? That is something I have to say about the French women (and men), they are not afraid to take chances. While not the same type of move that ACC pulled on Shanaze in the 2008 Bejing main, it shows the same sort of tenacity; not sure if that can be taught.
Manon's win kept France ahead of Australia; while New Zealand's junior rider, Jessie Smith, capped off her first final with a fourth place finish (my choice for women's breakout performance). That was an adequate substitute for the points the Kiwis would normally get from Sarah Walker. Russia's Natalia Afremova is not flashy, but she gets the job done with one main and one semi; keeping Russia in the points hunt.
Post Papendal, Marianna Pajon mentioned that she is going back in for another surgery. I almost feel that her performance now is more of an anti-atrophy effort than it is an all-out assault. Don't count out the queen of BMX, though.
Brazil (Stevaux), Ecuador (Azuero), Canada (Mechielsen), and Denmark (Christensen; who added a podium to back up her Manchester win) round out the top eleven. Remember, only countries in the top eleven earn a guaranteed spot(s) for the Olympics.
After that, countries will have to rely on the Individual Rankings, 2020 World Championships finishes, or Host Nation spots.
One big question that got answered this weekend was whether or not former World Champ Stefany Hernandez (VEN) would return to contend for Olympic glory. With the current situation in Venezuela it's hard to know what has kept her away from the circuit. She looked a bit rusty, but she was at the race, showing some fire. Thailand's Amanda Carr is also back on the circuit this season, but not showing much yet. Hernandez and Carr are 28 and 29, respectively, so this is, most likely, their last shot.
Next stop is Rock Hill, SC and hoping to see the Americans take full advantage.
---
Links