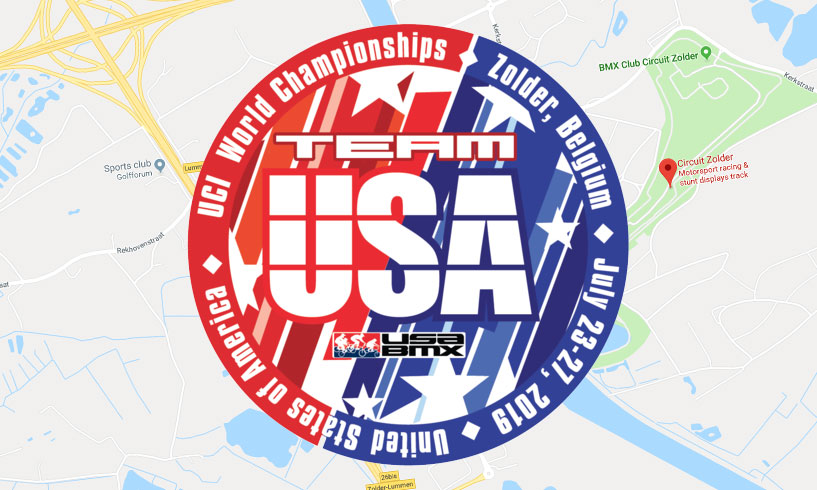 The 2019 UCI BMX World Championships will be held July 23-28, 2019 in Zolder, Belgium. The contingent of Challenge Class (AKA "Amateur") riders attending the event from the USA was announced today by USA BMX. As in previous years, USA BMX is the official coordinator for the Challenge Class program, helping USA Cycling handle our BMX athletes in a way they are accustomed, and with familiar faces the families are used to seeing at the nationals month in and month out. USA Cycling is the official governing for all US-based cycling programs competing outside the United States.
This year, there are 209 individuals traveling to Zolder to compete (257 entries, in all), from 34 states. Contrast this to the 84 riders who went to Baku, Azerbaijan last year, and it looks like Team USA will have strong representation at Circuit Zolder.
Here are the names of the riders, and the respective age classes for which they are entered:
5-6 CHALLENGE BOYS: Cruiser Broughton, Ramsey Chadwick, Ashton Hester, Gavin Reef LaGrappe, Greyson Sneed
7 CHALLENGE BOYS: Turbo Broughton, Wyatt Christensen, Eli Dowdy, Jay Hawkinson, Alex Ingham, Cole Nolte, Kane Schultheis, Jaxon Somerhalder, Drew Walz, Wyatt Williams
8 CHALLENGE BOYS: Benson Danielo, Jaxon Kopetskie, Cogan Martin-Kersey, Joseph Mather, Ryder Merki, Knox Perkins, Jacob Theisen, Devin Walz, Connor West, Espen Wilke
9 CHALLENGE BOYS: Eli Bundy, Arjuna Burgos, Sean Davies, Dylan Dohm, Keaton Falasco, Sean Lehew, Maximus Luysterborghs, Landon Niven, Lucas Theisen, Mason Timperley, Amaree Vick
10 CHALLENGE BOYS: Connor Clifford, William Edmonds, Jayden Linville, Justin Perkins, Dezel Prior, Ryder Scranton, Bryan Shatswell III
11 CHALLENGE BOYS: Mathew Barone, Tommy Bruney, Cohen Bundy, Nikolas Franz, Justin Fuster, Gaige Gomolicke, Otley Smith, Benjamin Steffens 11
12 CHALLENGE BOYS: Lukas Franz, Cole Frederick, Derek Halbur, Brady Jones, Ryder Lawrence, Jason Linville, Karter Montellano, Brady O'Neil, Hudson White
13 CHALLENGE BOYS: Sage Bader, Sebastian Bettinger, Michael Cubitt, Treyson Dillon, Cole Isaacs, Ronnie Kim, Nathaniel Loy, Campbell Maybon, Andrew Rassi, Sage Schmidt, Ayden Watts, Wyatt Worth
14 CHALLENGE BOYS: Nicholas Barone, Micah Binder, Dallas Gardner, Nathan Kitchen, Kaden Putnam, Oliver Smith, Joshua Trerise, James Cutter Williams
15 CHALLENGE BOYS: Zane Bader, Valentino Elizondo, Evan Enserro, Cesar Flores, Jacob Rodriguez, Logan Silver, Brett Stripling
16 CHALLENGE BOYS: Amakye Andersen, Henry Chudzik, Mikkel Devore, Tyler Hagan, Justin Houldson, Weston Meurlot, Nicolas Pareja, Drew Polk, Chad Romans, Benecio Sereni
17-24 CHALLENGE MEN: Brayden Kempel, Mason Meininger, Hunter Brown, Jett Hayes, Andrew Rayne Lankford, Evan Sinchak, Gunner Goodwin, Dylan Ramos, Jesse Welch, Nick Deters, Derrik Blackmore, Luke Roarty, Tyler Dudek, William Alec Nesbitt
25-29 CHALLENGE MEN: Jeffrey Graham, Ryan Kura, Nathan Rader
30-34 CHALLENGE MEN: Alex Fowler, Matthew Wilcox, Robert Pettinelli
35+ CHALLENGE MEN: Juan Narvaez, Nick Valencia, Richard Gresham, Adam Scott, Adam Treadwell, Leeangelo Valencia, Gary Kester, Nestor Baquero, Paulo Moreira
5-7 CHALLENGE GIRLS: Maya Gadbois, Sequoia Gomolicke, Cali Kopetskie, Kaylee Lovins, Giuliana Milliron, Sawyer Smith, Dakota Tucker
8 CHALLENGE GIRLS: Olivia Alvidrez, Callie Clifford, Isabella George, Kennedy Knopp, Grace O'Neil
9 CHALLENGE GIRLS: Danica Appenzeller, Piper Ramsey
10 CHALLENGE GIRLS: Kate Clarridge, Zoe Dannenberg, Lily Hinton, Reagan Rice, Annalyse Solano, Nora Willmert, Gianna Yee
11 CHALLENGE GIRLS: Avery Jones, Lola Jonjevic, Ruby Robinson, Taylor Spratt, Taio Taylor, Brenna Woodward, Olivia Yee
12 CHALLENGE GIRLS: Christina Cunningham, Dreyann Foster, Kaylie Prior
13 CHALLENGE GIRLS: Avery Chartrand, Sydney Garonzik, Olive Hinton, Danica Lothrop, Isabella Nelson
14 CHALLENGE GIRLS: Rylee Lawrence, Kayla Moulton
15 CHALLENGE GIRLS: Sara Brenner, Alexandra Hill
16 CHALLENGE GIRLS: Caitlyn Farmer, Mea Flynn
17-24 CHALLENGE WOMEN: Mya Ramos, Olivia Armstrong, Stephani Morin, Shayla Blackmore
25 + CHALLENGE WOMEN: Ashlee Hill Pettinelli, Carley Young
12 & UNDER BOYS CRUISER: Cohen Bundy, William Edmonds, Derek Halbur, Ryder Lawrence, Jason Linville, Karter Montellano, Brady O'Neil
13 & 14 BOYS CRUISER: Nicholas Barone, Micah Binder, Treyson Dillon, Dallas Gardner, Alexander George, Nathan Kitchen, Ronald Kim, Campbell Maybon, Andrew Rassi, Oliver Smith, Ayden Watts
15-16 BOYS CRUISER: Amakye Andersen, Jansen Cartee, Mikkel Devore, Cesar Flores, Gaved Foster, Bryan Garcia, Zackarie Kilpatrick, Weston Meurlot, Jacob Rodriguez, Benecio Sereni, Logan Silver
17-24 MENS CRUISER: Hunter Brown, Gunner Goodwin, Brayden Kempel, Luke Roarty, Trevor Rystrom
25-29 MENS CRUISER: Ryan Kura
30-34 MENS CRUISER: Alex Fowler, Robert Pettinelli
35-39 MENS CRUISER: Beau Foster, Adam Treadwell, Adam Scott, Leeangelo Valencia, Nick Valencia
40-44 MENS CRUISER: Christopher Broughton, Gary Kester, Corey Mitchell, Matt Moberly, Paulo Moreira, Cory Skinner
45-49 MENS CRUISER: Paul DePauw, Eric Watts, Max Woods
50 & Over MENS CRUISER: Bryan Dorsey, John Franco, Greg Mathias, Robert Raymonde, Tim West, Doug Woodruff
12 & Under GIRLS CRUISER: Caitlyn Farmer, Mea Flynn, Olive Hinton, Alexandra Hill, Isabella Nelson
13-16 GIRLS CRUISER: Christina Cunningham, Dreyann Foster, Lily Hinton, Brenna Woodward
17-29 WOMEN CRUISER: Raley Stripling
30-39 WOMEN CRUISER: Tara Broughton, Ashlee Hill Pettinelli, Vivian Pearson, Carley Young
40 & Over WOMEN CRUISER: Melissa Bray, DJ Fowler Berlin, Sonja Harmeson, Elizabeth Jones, Virginia Lingham, Kiley Niven, Erin Ramsey, Neven Steinmetz
---
It's important to note that these are only the riders who SIGNED UP for the Worlds. There are others who qualified in Oldsmar or Albuquerque, but did not actually sign up.
Also absent from this list is the roster for the Junior and Elite "Championship" class riders going to Zolder. Those selections will be announce in late June.
Keep and eye on BMX News for more on the Team USA effort, and coverage of the actual race this July.