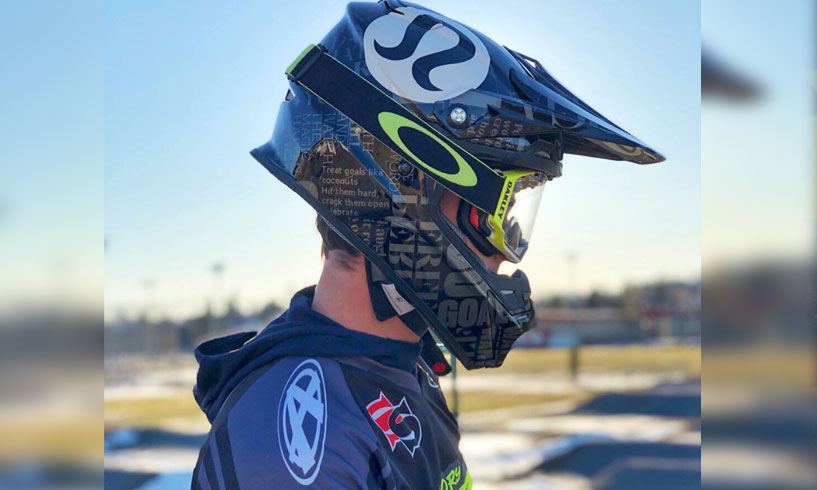 Action Sports fans the world-over are familiar with sponsored helmets—a mark of prestige that says "this is one of THOSE athletes, who pushes the limits, and represents the brand on a whole-new level."
Recently, Answer BMX superhero, Tory Nyhaug, unveiled his new bad-to-the-bone brain bucket, representing a stepped-up commitment from one of his long-time sponsors–Lululemon Athletica. The company makes some of the hottest action gear in the world, and helps athletes of all stripes look good doing what they do best.
Tory has been in-deep with the company for years, representing well and even doing some social media "takeovers" of the main Lululemon Snapchat account.
Here's what Tory told News about the new gear:
I've been a Lululemon elite ambassador for almost four years. They're a great company with values that are important to me.

They care about people, society and they treat their athletes like family. They're not a company that's going to just sponsor an athlete, they choose athletes who are good people, share their values and who they can help on their journey in sport and life.

They asked me if they could do a custom helmet for me and that was a complete no-brainer for me. I love supporting people who support me.

A couple helmets were created for me, and they're sick. I love the fact that I can represent Lululemon on and off the track.
THAT is extra-special-cool!
While we had Tory's attention, we asked for an update on his return to the racetrack. He has been on the injured list since last August, and Tory fans, like us, want to know.
Progress from my serious concussion last year in Baku is going really well. I'm back riding with the team each week (still riding lightly) and I'm working with our staff to ensure that I'm getting treatment, recovering, and progressing smartly on the track.

To be honest, I didn't think it would take me this long to recover, but I'm happy I've been smart about it and haven't rushed into anything before I'm ready. I know this is not uncommon for athletes of any sport, and I hope people reading this— if they've had a concussion, or know someone/have had kids that have had one— take their time and be smart.

You only get one head, don't take any chances. Get the necessary treatment to recover. I'm glad I did.
Some solid advice from a very-solid, from a guy who's been there.
If you haven't-yet, check out Tory's new podcast, Coffee Chatter, co-anchored by pal James Palmer (link below).
---
Links